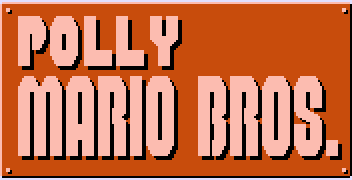 Polly Mario Bros.
A downloadable game for Windows, macOS, and Linux
Originally released October 27th, 2015.
This game was created using Andrew Kellogg's excellent (and now lost to the void) Mario Maker creation engine Mario NES Builder.
When creating it, my idea was to create as close an experience to those original games as possible with as many interesting and fun twists on those ideas within Super Mario Bros'. original limitations.
I feel I largely succeeded, but I'd probably go back and cut down the height on some of those pipes 1-2 tiles, but the game was created and tailored more to my playstyle of RUN AND NEVER STOP.
The game is presented here as it was originally released and there will be no more updates to it.
Install instructions
Run the .jar file to play the videogame! Controls can be configured from the main menu.